I always enjoy a good group cosplay. The groups are easier to recognize than something on its own, it always gets more attention and I love being with other people who've put just as much effort as I have into this weird thing that I enjoy.
From LA Weekly: http://www.laweekly.com/slideshow/the-cosplay-of-comic-con-san-diego-2015-5798073/32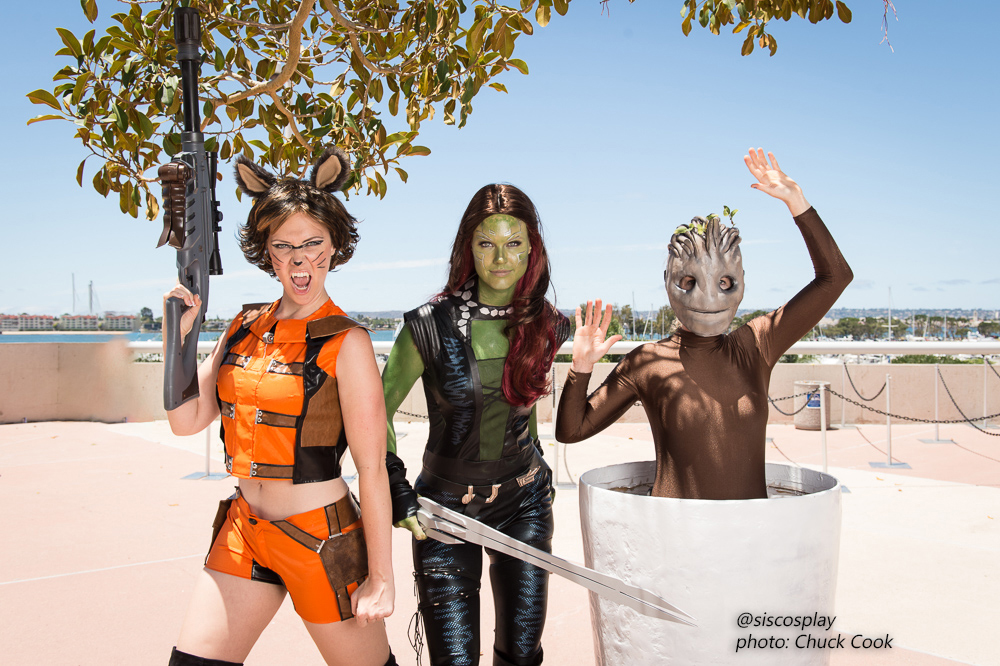 This one all stemmed from my sister wanting to do a Guardians of the Galaxy cosplay but didn't really take shape 'til a friend mentioned they were able to make a Baby Groot costume.  Opting for Gamora myself, the costume slowly began to take shape.
Surprisingly, a decent base costume was fairly easy to find on Amazon. http://www.amazon.com/Disguise-Womens-Marvel-Guardians-Costume/dp/B00J3QGH0Y
It didn't have the right leggings, but as I was going to wear some over-the-knee boots, I didn't mind too much. It had the main costume, the glovelets and the boot covers, which was a pretty good base to build off of.
I generally wore a size 4, but because of the notes on the costume fitting small and because I'm freakishly tall, I opted for the size medium (size 8-10).
Even with the sizing up, I ended up doing some modifications to the costume: I added some extra poly/spandex blend fabric to the middle of the costume because of my long torso.  I also removed the costume's "belt" because, well, the costume's one sucked.
I always knew I was going to make the belt/harness/holster myself, so after removing the base costume's one, I went on a search for the right fabric to put it together I actually bought some pleather material from a Joann's Fabric, but it just wasn't the right look.  But THEN, I got directed to a genuine cobbler/leather wholesalers in town (god bless LA sometimes) and was able to pick up a perfect leather scrap for $7.  They had BARRELLS of the stuff.
Putting the belt/holster together took a bit of research.  Besides the real-life references of the costume, I also looked to the Hot Toys action figure of Gamora, which had some really nice detail.
I did two layers for the 'holster' itself and stuck the two together first with a glue gun, but that didn't adhere well once it dried so I switched to regular old KrazyGlue, which held up very well.
The buckles came from cosplaysky.com, which had both of the types of buckles I needed.
I bought two for the extra 'hanging' piece of leather over the right leg, plus the one that connects the 'belt' with the 'holster'.  To put it all together I added some black metal snaps.
I picked up some cotton thread and silver beads from Joann's Fabric to make the extra leg detail on the right leg of the costume
The wig came from Amazon as well. http://www.amazon.com/Costume-Marvel-Universe-Guardians-Multicolor/dp/B00HU0BQPG/ref=sr_1_1?ie=UTF8&qid=1436744914&sr=8-1&keywords=gamora+wig
They had essentially taken half a brown wig and half a red one and topped them together.  I ended up razoring through half of the brown on the hair because it was super heavy, however, even then, the hair kept getting into my face and sticking to the makeup, so I pulled back the wig with some bobby pins, making me look a bit like a color-confused Na'vi. But it kept it out of the makeup!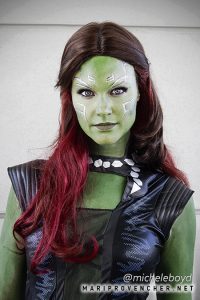 Speaking of makeup, I mostly followed this tutorial http://www.frmheadtotoe.com/2014/10/gamora-makeup-costume-guardians-of.html as far as technique, except I used Mehron Green Greasepaint for my face/neck and Mehron Liquid Paint for the arms/chest. 1oz for the liquid was more than enough to cover my arms/chest.
We actually used sponges for everything because I didn't have access to an airbrush machine. (Note for family: I want an airbrush machine for Christmas!!) It was definitely a little frustrating to cover everything evenly; it took around 3 hours for it all, mostly because of the drying time that was required.  I needed about 3-4 coats on my arms/chest (utilizing my sister to help get the hard-to-reach parts). For my face, I used a Dollar Tree green makeup pallet to help contour my cheekbones, nose and forehead (because dammit, I'm poor), mixing the green shadow with a brown for a bit more depth.  For my eyes, I went with the above tutorial but mostly used a mixture of a Naked pallet and Mac Superslick Liquid Eyeliner in Nocturnal to achieve the eye makeup and the scars.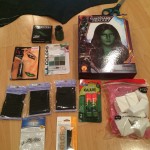 Because every girl needs her weapon, I got mine from Etsy: https://www.etsy.com/listing/234764436/gamoras-sword-guardians-of-the-galaxy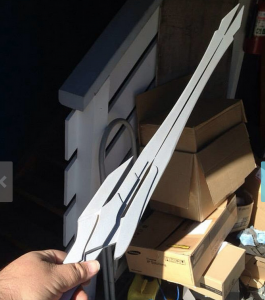 It was essentially a laser-cut wood composite, and thankfully was more than light enough to carry around all day.
It was so much fun walking around San Diego Comic-Con.  Got to battle a few other Gamoras and slay a few nightmare Scream villains from the upcoming MTV show.
From ScreenJunkies.com:
Hope this helped anyone else with their cosplay.  I had a blast with Gamora, now onto the next!